ILLINOIS STATE WIRELESS ASSOCIATION (ILSWA) HIGH SCHOOL SCHOLARSHIP PROGRAM
As a part of its commitment to education and community involvement, ILSWA offers scholarships to graduating High School seniors who wish to further their education. Available to seniors graduating from an Illinois State High School.
Congratulations to our 2022 Scholarship Winners Ella Zimmerman, Kayla Rushford, & Francesca Ranieri!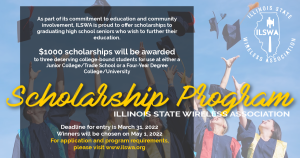 Congratulations to our 2021 Scholarship Recipients
Avery Kyle
Brooke Swanson
Maddie Bamford